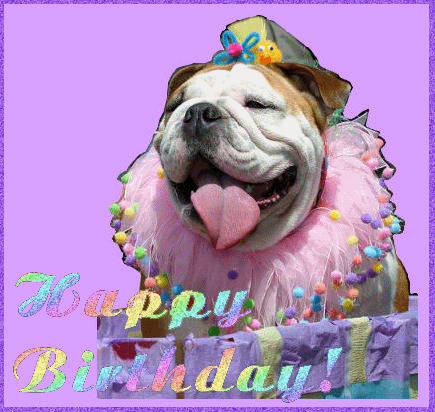 glitter-graphics.com
HAPPY BIRTHDAY TO JANE!!!!
If you haven't visited her at her blog
JanesFabrics
or at her store
http://stores.ebay.com/Janes-Fabrics_W0QQsspagenameZMEQ3aFQ3aSTQQtZkm
or her ETSY
http://janesfabrics.etsy.com/
, you should hop right on over!!! She has fantastic fabrics and she is a fellow bully-dog mom!!!! She just got the cutest puppy!!! Sophie

Isn't she GORGEOUS!!!!! I have puppy envy!!!!!!! What a pretty puppy you are Sophie!!!!! I just want to kiss that wrinkle!!!!! And her sisters are beautiful too; she has one human sister and one canine sister named Millie! She is a lucky puppy to have such a wonderful mom and dad too!

Here is what Jane is giving away for her birthday!!! WOOOO!


Isn't this great; it's her birthday and she is giving out gifts!!!!!
Jane is a great friend to me and I just love her store; go on over and get entered and shop a bit, read her great blog full of creative ideas and see her family; more bullies!!!! You will have fun and maybe win this great prize too!!!!! I HOPE I WIN!!! But, if I don't I hope one of you all will; Tell Jane I sent ya!!!!